Skinner's American and European art sale ends in a tie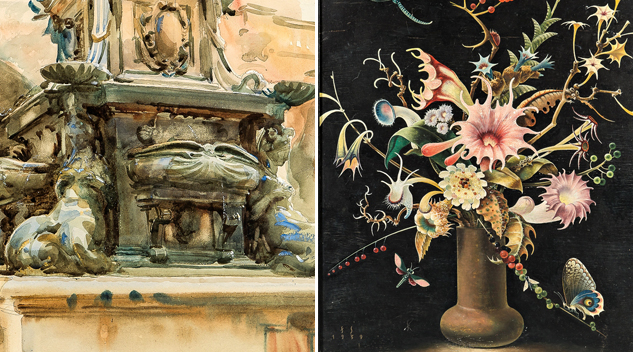 BOSTON — In a bid to tie, two paintings — one by John Singer Sargent (American, 1856-1925) and the other by Franz Sedlacek (Austrian, 1891-1945) — have topped the artwork auction of American and European art from Skinner on May 10 at $183,000 each. Both works exceeded double their high estimates.
Sargent's "Fountain of Bologna", a 12 by 18 inch watercolour, gouache and pencil on paper, was described as "one of Sargent's most subtle and beautiful architectural studies" in the catalog raisonné of the artist. Sedlacek's "Blumenstück," a 24 7/8 x 20 inch oil on plywood panel, is an example of the painter's exploration into magical realism. The catalog noted, "In this fantastical still life, Sedlacek borrowed subject matter and style of painting from the old master's Dutch and Flemish panel paintings, and transformed them into an eerie and alluring composition of tendrils and arabesques. accurately rendered, fantastic flowers and insects.
Both paintings had documented the artist's provenance. Sargent's work was purchased from the artist by the Museum of the Brooklyn Institute of Arts and Sciences, New York, through M. Knoedler & Co., in 1909. It was later disposed of by Mr. Knoedler & Co. in 1926 and was sold to the collection of John S. Ames, Boston, in 1927. In 1959 it passed to the estate of Elizabeth M. Ames.
Sedlacek's painting had been run down in the artist's family since its creation in 1939. It was given by the artist to his brother, Julius Sedlacek, who then gave it to his daughter, Elizabeth, on his birthday. marriage in 1947. He remained in this family. because.
Watch for a full review in an upcoming issue.