It's a wrap! Christo Dessin Tops Skinner Fine Art Sale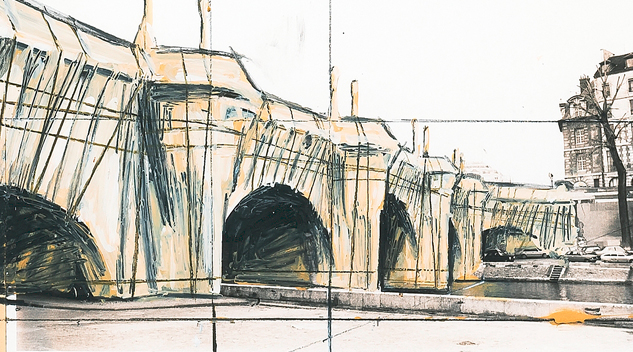 Reviewed by Madelia Hickman Ring, catalog photos courtesy of Skinner
MARLBOROUGH, MASS. – Skinner's May 21 sale of American and European paintings and sculptures was a mixed media drawing by large-scale environmental artist Christo (American, 1925-2020), which grossed $ 43,750. It was the highest price in an auction of almost 225 lots that fetched around $ 750,000 and sold 86 percent per lot.
"It was a small sale and it went well," said Robin Starr, director of American and European artwork for Skinner. "We were very satisfied with the participation; we've had tons of auctions online. We are seeing more and more people wanting to bid online, even canceling the phone lines they had reserved so they could bid online.
The first batch recorded Christo's installation in September 1985, in which he and his collaborating wife, Jeanne-Claude, enveloped the Pont Neuf in Paris. The project, which took ten years of negotiations to get the green light, was installed for just 14 days and required the help of 300 workers and volunteers to bring it to fruition. Meanwhile, 450,000 square feet of silky, golden sandstone-colored fabric completely enveloped the 761-foot-long and 72-foot-wide bridge while leaving it accessible to pedestrians and river traffic.
Each of Christo and Jean-Claude's massive immersive projects were funded by the sale of preparatory drawings, which the artists made in part to record the technical aspects of their temporary installations. The example proposed by Skinner was given by the artists to the salesman, one of the American engineers of the project who worked voluntarily with Christo and Jeanne-Claude.
The work had been authenticated by the artists' office, which confirmed that it was entered in their files. It has attracted interest from bidders in the Boston area as well as bidders in New York and overseas; eventually, it was sold to an international buyer who was bidding online.
A Still Life of Pink Roses in a Vase by Martin Johnson Heade (American, 1819-1904) had the second highest price in the auction, sold to a private collector bidding online for $ 40,625. Skinner showed the work to Heade's expert, Dr. Theodore E. Stebbins Jr, who will include it in the next edition of the artist's catalog raisonné. Stebbins dated the painting between 1860 and 1862, when Heade was first working in New York; this also makes it one of the artist's first flower arrangements. Also note the presence of a marble rather than a wooden top, which the artist used with greater frequency.
A painting from a collection of some twenty works from the Ritz-Carlton hotel in Boston completed the classification of the sale. Dean Cornwell's "Royal Colony – Colonial Scene" (American, 1892-1960) sold to an American collector for $ 32,500.
Sports art was portrayed with gaiety, with a watercolor by Ogden Minton Pleissner (American, 1905-1983) setting the bar high. "High Cliff at 'Dog Pool'" had already been offered at Sotheby's New York in 1987 and exceeded expectations, selling for $ 23,000. Maritime works were rarer, but a striking work by Montague Dawson (British, 1890-1973) exceeded its estimate to end up at $ 20,000.
For collectors of American Impressionism, two results are particularly noteworthy. "Woman at Tea in a Garden" by Mary Louise Fairchild MacMonnies (American, 1858-1946) reached more than five times its high estimate of $ 27,500, while "In Boston Public Gardens" by Arthur Clifton Goodwin (American, 1866-1929) quadrupled its high estimate to achieve $ 17,000. The painting had been included in a 1946 exhibition at Phillips Academy in Andover, Mass.
Skinner, who has historically combined its sales of American and European artwork, is shaking things up in the coming months and will be selling American artwork in September, and European artwork in a separate sale from Modern and Contemporary. Sale dates have not yet been announced.
Prices shown include buyer's premium as reported by the auction house.
For information, 508-970-3211 or www.skinnerinc.com.