As the coronavirus continues to spread around the world, Sending ripple effects into the daily life of every person on the planet, the questions keep piling up: How long will this last? How bad will it get?
Things are changing so quickly with the coronavirus that it's hard to keep up, even with what's going on in our little niche world of surfing. Just a few weeks ago, we asked a large number of traveling surfers about their thoughts on continuing the swells during the pandemic and, for the most part, they were indifferent. Before that, it was speculated that surfing debut at the 2020 Tokyo Olympics could be scrapped if the games are canceled. Then, more recently, the WSL announced that the CT 2020 season launch event, the Corona Open Gold Coast, would be canceled. And maybe the scariest part of it all is the unknown of what's to come.
But all we can do in these uncertain times is to focus on the here and now. So we decided to reach out to a handful of surfers around the world to see exactly how the pandemic is affecting their lives, especially when it comes to getting wet – or, more specifically, trying to stay sane then. that this is not an option.
Natxo Gonzalez (Basque Country, Spain)
"We're not going to surf now. Police are on the streets to prevent surfers from going out. It will pump this week and empty itself! [Laughs.] We're home going out to the supermarket and nothing else. It's crap, but the world is like that and we have to respect it. Well we [Natxo and lensman Jon Bakio] have been working on a new project that will drop soon. Now is the perfect time to work on a computer.
Jon Bakio (Basque Country, Spain)
"It's kind of a crazy nightmare. Quarantine of more than 15 days minimum. Confinement at home, even in small towns, with the police controlling everything with several fines. Surfing is forbidden, beaches closed, let's hope something happens as safe and as quickly as possible. Thursday, Mundaka will pump… and empty! Fines of 1,500 to 6,000 euros… madness. It's our second day of quarantine and today is down and rainy but that will change tomorrow. I don't know how we're gonna do it [nervous laugh]. "
WATCH LIVE: Mundaka surf camera
Kepa Acero (Basque Country, Spain)
"I'm locked up at home and things are pretty heavy. I didn't expect things to be like this. At least in my hometown, there is no one in the streets. If they catch you running, walking around, you have to justify what you are doing. And, of course, you can't surf. There are fines of 600 to 30,000 euros and they can put you in jail. I'm going crazy at home! But I guess that's something everyone has to do now. The sooner we stop this, the sooner we'll get back to it – well, maybe not normal, but let's get back to work.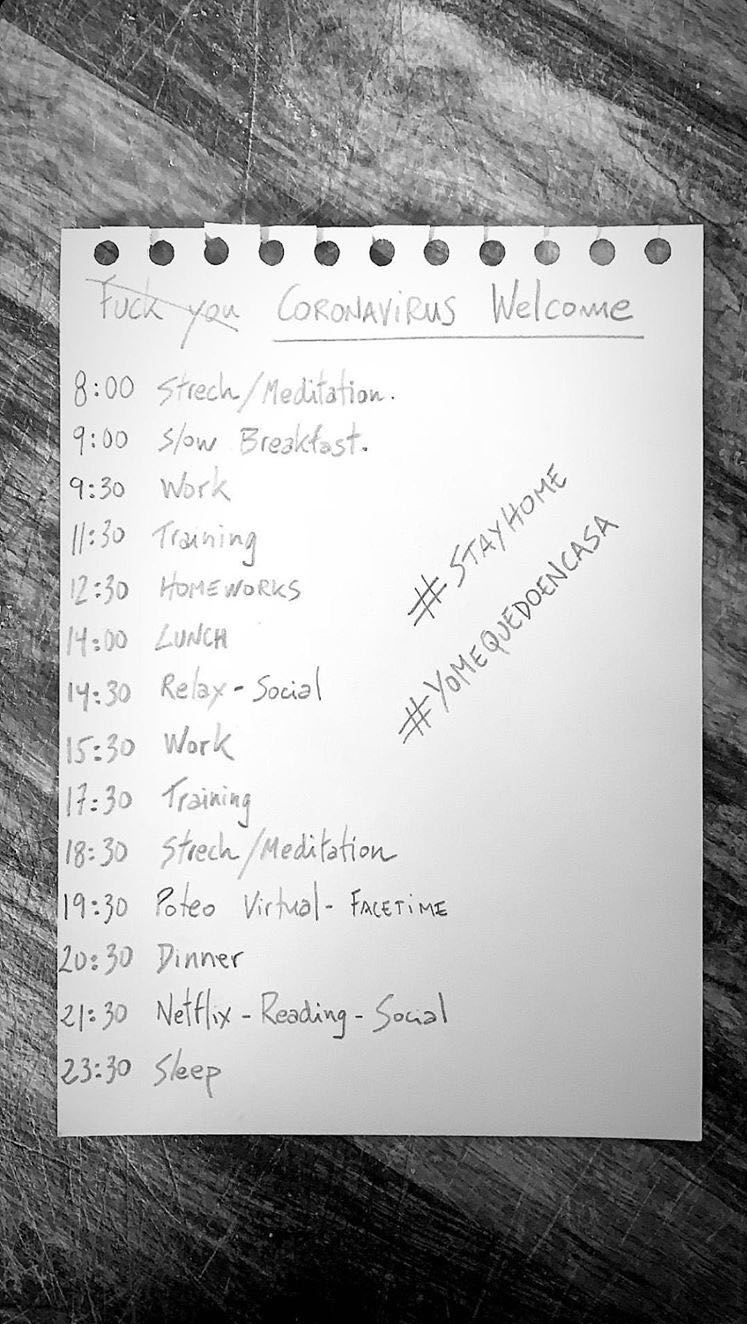 Nic Von Rupp (Portugal)
"It is advised by the government but not mandatory. But I guess everyone here in Portugal is taking their own steps. I started to feel a little sick so I decided to do what I thought was best. Try to learn from the mistakes of others. I try to take this as seriously as possible. People are surfing, but the beaches are off-limits at the moment. I'm sure people will come in at some point, no one knows if there is a punishment for surfing. I haven't tried in the past five days. Think we'll be in quarantine for at least a month, maybe even until June. It took China three months and it's going to take less civilized places – well, where people are more reckless, it will take longer. I have no travel plans for the next few months, that's for sure.
WATCH LIVE: Surf Cam Nazaré
Roberto D'Amico (Italy)
"I have been in quarantine for a week already. There are no waves at the moment but, even if there were waves, I am not allowed to leave my house. And even if there were, the queue would be like the roads… empty. We believe this will be in place until April 3. Because most people have to get in the car and look for the right place and once you park we are all pretty much all in the same place and that is not possible at the moment. I live facing the sea; I wish to have more information in case of waves to be able to go there if I need it.
"I had to be in Israel from time to time and then in Portugal with the following QS events. Once that's done, I can't wait to go get hot somewhere. The winter has been great here, but now the season is over; I don't think there will be many until October.
"We really help each other. The whole nation is sharing information with online trainings and donations to hospitals for those who can.
"We make online appointments, do things we never have time to be positive and play by the rules. I know it will also help mother nature to be reborn, the world was moving too fast for me and it's just a sudden stop. Don't start being lazy in isolation. Keep your body active and it will help your mind. Stay away from but close to your loved ones and play by the rules.
Nik Zanella (based in China, but currently in Italy)
"The Italian ban is not specific to surfing and is not at all clear in terms of what you can actually do outside. Walk the dog is ok, running (without using a car to go to the park or where you want to run) is ok, and there is a specific ban on beaches, piers and docks as there are two On weekends, people (myself included) flocked to the beaches for what they suspected were their last sunny days of outdoor living.
"Now thousands of people have been fined for cycling for no good reason and the SUP has also been shut down. When you get a fine, you pay 209 euros and then it's written on your file, it's not like running a red light.
"For example, I work in China and I couldn't legally work with this on my case, it disturbs your freedoms so I don't want to test the flexibility of the law. Some guys here on the east coast went surfing yesterday but I don't know if they got caught or not. I'm definitely not encouraging that.
"I'm like a junky without his fix. I feel pretty stupid and superficial talking about surfing in this tragic situation. But frankly, don't see the light coming out of the barrel yet.
"I don't know when I'll be surfing again and it's driving me crazy. I was used to 200 days of surfing a year in Hainan and now I'm like a junky without his fix. I hate to train, I surf and SUP when it's flat.
"So I'm putting on weight and the last time I surfed last week I felt like a bear just out of hibernation because of my stiffness. And I have these weird dreams where I arrive at the beach, my spot is with my head up and out but my board has no fins, typical drug addict dreams. Without my dose, I get sullen.
"But I feel selfish just by mentioning it. I feel pretty stupid and superficial talking about surfing in this tragic situation. I may be scared and have been locked up three times already and frankly not yet see the light coming out of the barrel.
Rob Kelly (based in New Jersey, but currently in Puerto Rico)
"I'm actually in Puerto Rico, but I'm going home tonight, but after talking to everyone at the house it looks like things are getting a little crazy.
"Because New York and Philadelphia are locked down and schools are closed, a lot of people are leaving town and coming to the seaside towns of New Jersey. Our towns here are very seasonal and are not yet ready for the influx of visitors that we normally receive during the summer months, so this is starting to cause problems.
Not an hour later, Rob replies, "Coincidentally, I just got kicked off the beach in Puerto Rico. No surfing for two weeks, that's what the policeman said.
WATCH LIVE: Surf Cam Parking
Micah Weaver (Puerto Rico)
"Today was our first day of total lockdown here at PR. Surprisingly, the police are enforcing the order right now. The road to Domes is blocked by the cops and they are chasing people from the beach in some places. Many locals tell their friends, relatives and customers to cancel their trips because you can't surf here now.
"I think you could surf isolated spots that are not seen by the general public, but you would be breaking the law. I thought it was only residents and not visitors, but it seems the police are now enforcing it on everyone. They tell everyone to stay home until March 30.
Parts of this article originally appeared on the magic algae – thanks to Jason Lock for reporting.