A Bandon art gallery with a mission far greater than art reopened this week after being closed for 15 months due to COVID-19.
Washed Ashore opened her gallery at 325 2nd Street SE in downtown Bandon after using the free time to make some gallery improvements.
"We're super excited, super excited for this," gallery director Cameron McGrew said last week. "We are getting some new additions. We repaint the walls and the carpets have already been cleaned. It's exciting to have a fresh start.
Washed Ashore opened in 2010 when Angela Haseltine Pozzi came up with the idea of ​​making art from trash that washed up on the region's beaches. Pozzi, who is also an art director, has teamed up with artist Steve Wright to create masterpieces made almost entirely from scrap.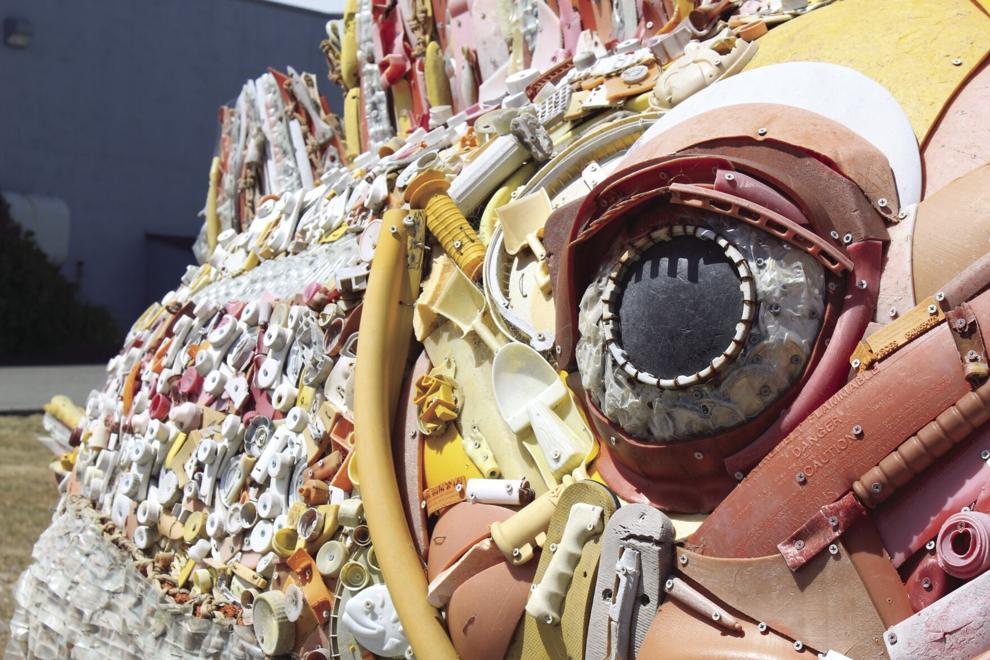 Washed Ashore collects garbage that has been removed from breaches through volunteer cleanup efforts as well as garbage collected by park rangers. The objects are then cleaned and used to make massive sculptures.
"We're definitely going to pick up whatever they find and turn it into some great sea creatures," McGrew said.
And in doing so, Washed Ashore hopes to spread a bigger message about keeping trash out of the ocean.
"We are an education-based nonprofit," said McGrew. "Our goal is to educate the public. We actually did screenings in Canada. We have traveled all over the United States. Right now we are in Norfolk, Virginia, Green Bay, Wisconsin, and Turtle Bay in Redding, California.
Washed Ashore also has exhibits in the Smithsonian, Florida Aquarium, and various aquariums and zoos across Oregon.
But the home port is and always has been in Bandon. This is where Pozzi and Wright get their ideas and this is where the volunteers help put the sculptures together piece by piece.
The end result is larger-than-life sculptures, all featuring sea creatures and all made from scraps.
"We clean the beaches, we educate the public and try to involve the community," said McGrew.
While most sculptures are made of plastic, some include styrofoam, fishing boat nets, and more. The biggest problem, however, remains the plastic. The problem is, plastic never completely degrades, so it can sit in the ocean for years and years. And meanwhile, it can wreak havoc on the animals that live and depend on the sea. Washed Ashore is trying to get the message across that most uses of plastic are unnecessary. At the gallery, they offer water in biodegradable milk cartons.
"Plastic is needed to an extent," McGrew said. "But single-use plastic is what we're trying to avoid, things like single-use soda bottles, plastic wrap around food that you're just going to take out and throw away."
To take stock, McGrew likes to display a sculpture in the museum. Made largely from plastic water bottles, the majority of the bottles came from the Olympics in Beijing, China. They ran aground near Bandon a few years later.
"Everything you buy is a vote," McGrew said. "So if you choose to buy canned water, for example, you're voting with your wallet every time you make a purchase. If we all stopped buying plastic soda bottles, they would get the message. "
Instead, McGrew said, buy aluminum, glass and paper products that can be easily recycled.
When visitors come to Washed Ashore, McGrew or other docents will strike up conversations with visitors to show the importance of voting with their wallets.
And, once again, Washed Ashore opens and broadcasts this message.
As a non-profit organization, the gallery relies on donations, volunteers and grants. He also now earns money by loaning his finished products to museums and other places across the country.
The interior of the gallery is still the best place to view the work. There are over 85 sculptures in the gallery, the largest of which is probably a parrotfish measuring 9 1/2 feet tall, 14 feet long and six feet wide.
The Washed Ashore Gallery will be open from noon to 5 p.m. on Tuesdays, Wednesdays and Thursdays and from 11 a.m. to 5 p.m. on Fridays and Saturdays.